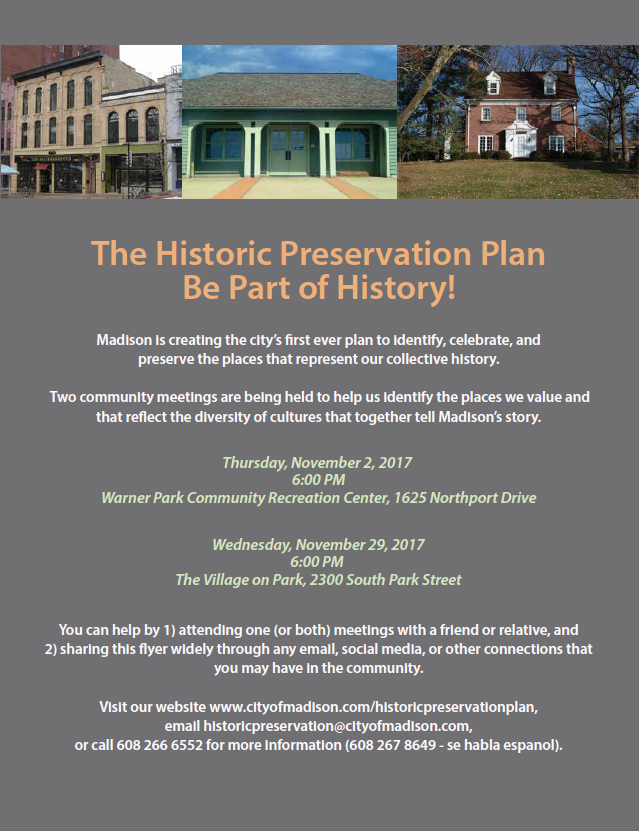 Madison is creating the city's first ever plan to identify, celebrate, and preserve the places that represent our collective history.
The plan is important because these places:
▪ Ensure that everyone's story is told and passed on to future generations
▪ Connect people to the community
▪ Inform what is significant to who and why
Two community meetings are being held to help us identify the places we value and that reflect the diversity of cultures that together tell Madison's story. You can help by 1) attending one (or both) meetings with a friend or relative, and 2) sharing this email widely through any email, social media, or other connections that you may have in the community.

Please join us:
Thursday November 2, 2017 at 6:00 PM at the Warner Park Community Recreation Center, 1625 Northport Drive.
Wednesday November 29, 2017 Details forthcoming.
For more information including details about the November 29 meeting, please visit our website at: www.cityofmadison.com/historicpreservationplan
We hope to see you on November 2 and/or on November 29. Thank you.