Warm Up to Winter Savings


Fight the chill—and costs—of winter with these easy energy-saving tips for your home.

Winter officially returns later this month. This year's winter solstice—the day with the fewest hours of daylight—occurs on December 21. But many of us actually started using our furnaces and fireplaces for the first time weeks ago. This house reveals some tips for being more energy efficient when the temperature drops. See if you're aware of these actions you could take in your own home!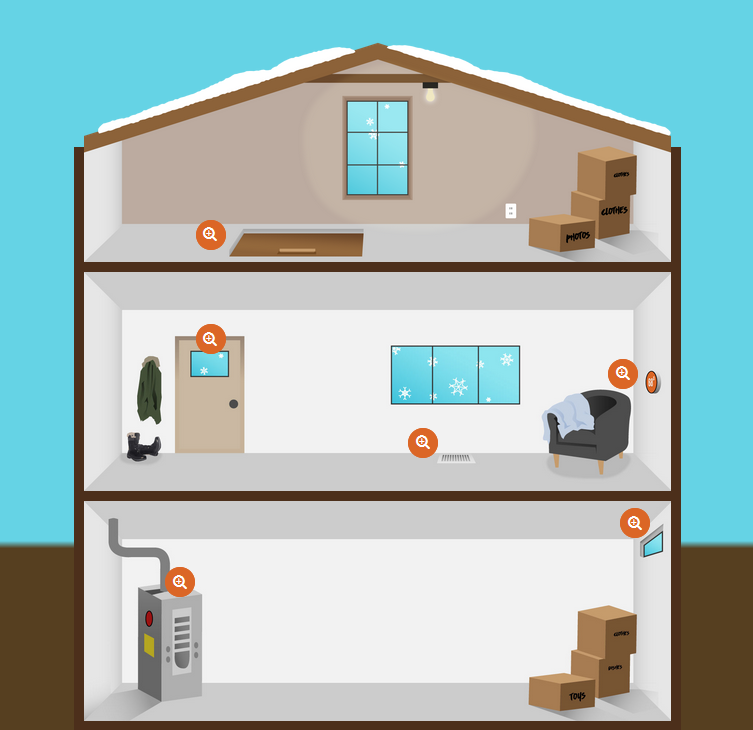 When old man winter finally does arrive, he always brings with him increased energy usage. energy2030together.com has summarized some of the most common ways we all can reduce our energy use during the deep freeze that's sure to come. If we all reduce our usage, we not only save money individually, but together, we make an impact!
See some FAQs below to help your home be more energy efficient, and if you have additional questions, our Home Energy Line is there to help! Call us at 608-252-7117 or 1-800-245-1125 Monday through Friday from 8:00 a.m. to 4:30 p.m., or email us at This email address is being protected from spambots. You need JavaScript enabled to view it..
Where is energy lost in the house?
It's important to make sure your home is adequately sealed to avoid air leaks. Latch windows and double check weatherstripping around doors. Quality caulking and weatherstripping can last for decades.
If your attic has fewer than seven inches of insulation, fix air leaks from the house into the attic and add more insulation. Failing to fix air leaks before re-insulating is a big mistake. Most air leaks come not from windows and doors but from the following areas: attics, basements, kneewalls and garages under living spaces.
Homeowners also can purchase a home energy assessment to determine which home enhancements could improve a home's energy efficiency. A home energy assessment could include blower door and combustion safety testing, which check for leaks and ensure mechanicals, such as your furnace and water heater, are functioning properly. Both tests are important when sealing a home tight! Visit the Focus on Energy website to learn more and to find a local Trade Ally to perform an energy assessment.
Does it really save energy to turn my thermostat back at night in the winter?
Turning down the thermostat saves energy and money. Your home will lose less heat when the inside temperature is lower. The longer your home is at a lower temperature, the more you save. While your furnace will run for a longer period when the temperature is turned back up, the energy saved during setback is more.
How often should I replace my furnace filter?
Check your furnace filter monthly and replace it when it's dirty. Very few filters need changing monthly, but check it until you learn how fast it gets dirty. Clean filters help ensure sufficient airflow. Also, if you haven't had your furnace serviced for more than two years, now is a good time to do so.
I have an electric space heater. Will it reduce my heating bill?
Using a portable electric space heater can be one of the most expensive ways to heat your home. Electric heat is the leading cause of wintertime high bill complaints. You're likely to increase your bill by using a portable electric space heater. Why? Electricity costs about four times more for the same amount of heat compared to natural gas.
All electric space heaters also carry a safety risk. For your safety, please follow these guidelines:
Turn off when not in the room or when sleeping.
Only buy a unit with a tip-over safety switch, which automatically shuts off the heater if the unit is tipped over.
Avoid contact with the heating element in an electric heater. Fabric can catch fire or you can burn your skin. Keep all materials at least three feet away.
Make sure rooms where space heaters will be used have functioning smoke detectors.
Space heaters can trip a circuit breaker or blow a fuse. If this happens repeatedly, try using a different outlet or contact an electrician.
Never use an electric heater with an extension cord.
Locate the heater on a level surface away from foot traffic. Be especially careful to keep children and pets away from the heater.
Only buy Underwriters Laboratories (UL) approved heaters.
For more information on types of heaters and their costs to operate, visit mge.com.
I'm having trouble making payments for my energy bill. What can I do?
Households with low-to-moderate income may be eligible for help to reduce and/or pay their energy bills. Assistance is available through the Wisconsin Home Energy Assistance Program and Focus on Energy. You can find more information about how to apply for assistance at mge.com/customer-service.
published: 12-12-2016