Dear Darbo-Worthington-Starkweather and Town of Blooming Grove residents,
Please join us for an Open House on May 10th, at Salvation Army. 3030 Darbo Dr., from 6:00pm to 8:00pm. where our Planning team will present the complete DRAFT Plan for review and comment, and ask for your funding priorities of neighborhood projects. This will be also an opportunity for you to form or join one of the actions teams that the neighbors have created through this planning process.
We will have food and beverages for all attendees and there will also be childcare and language assistance (Hmong and Spanish).
Join us and help us shape the future of your neighborhood!
See you on May 10th,
This email address is being protected from spambots. You need JavaScript enabled to view it.This email address is being protected from spambots. You need JavaScript enabled to view it.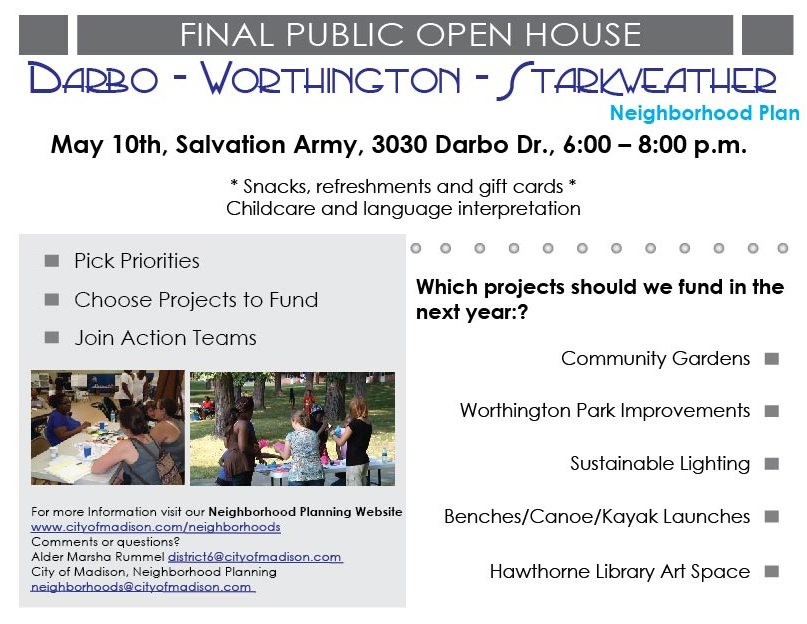 For more information, contact:
Ian Aley | MarketReady Program Coordinator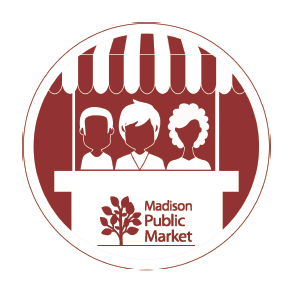 608-204-7029 | This email address is being protected from spambots. You need JavaScript enabled to view it.

FOR IMMEDIATE RELEASE:
Training program seeks new entrepreneurs, plants seeds for Madison Public Market


The MarketReady Program, the City of Madison's major Madison Public Market equity initiative,
launched in March after nearly a year of planning. With construction for the Public Market slated for
2018, MarketReady aims to cultivate a diverse cohort of small businesses to vend in the Public
Market when it opens in 2019.

The program will support new entrepreneurs with business training, technical assistance, business
coaching, peer support and micro-grants, with an emphasis on investing in communities that face
historical barriers to business ownership, including low income populations, people of color,
immigrants, women, displaced workers, veterans and LGBTQ individuals.

Thirty applicants will enroll in the program and receive one-on-one consultation, referrals to
educational and financial services and invitations to peer networking events. Half of these
participants will receive additional mentorship and access to City-funded micro-grants. At the end of
the program, this cohort of 15 will present their business plans to the City's Public Market
Development Committee, which will select five participants to receive additional funding to operate
in the Madison Public Market.

The City of Madison is funding the MarketReady Program as a component of the Public Market
Implementation Strategy that was approved the City Council last year. The concept of MarketReady
emerged from applying the City's Racial Equity and Social Justice Initiative Tool to the Public
Market project. The results of the equity analysis emphasized the Public Market's potential role as a
platform for diverse entrepreneurship if the right support programming is put in place. The City's
Public Market Development Committee developed the framework for MarketReady and selected a
local team to administer the program. The team is led by the Northside Planning Council and FEED
Kitchens, and includes the Wisconsin Women's Business Initiative Corporation and Dane County
UW Extension. The Northside Planning Council has engaged Ian Aley as the MarketReady Program
Coordinator.

City of Madison Business Development Specialist, Mike Miller, will manage the City's contract for
the project, provide regular updates to the Public Market Development Committee and work with the
team throughout the process. Miller sees MarketReady as an opportunity to build an equitable
foundation for the Madison Public Market. "The exciting part for me is that the MarketReady
Program came about through a Racial Equity and Social Justice Initiative (RESJI) Equity Tool
analysis," Miller said.

Miller explained that RESJI "identified that the Madison Public Market could be a positive
economic opportunity for low-income populations, communities of color, immigrants, women and
groups historically facing barriers to starting businesses. The program will target individuals from
these groups who are interested in opening a business in the Madison Public Market."
Space in the Public Market will not be limited to MarketReady participants. The City of Madison
has begun a parallel vendor intake process which will extend beyond the program. The vendor
interest form for the Public Market is available at the City of Madison website. "If someone isn't
ready to go when MarketReady applications are due, they can still vend in the market," said Aley.
"This will be an ongoing process of support; we'll still walk with people and support them along the
way, because we want everyone to be successful."

As MarketReady launches and Madison Public Market development continues, Aley looks forward
to strengthening local connections through entrepreneurship. "The Public Market is an incredible
opportunity. It's an opportunity for Northsiders, Madisonians and people in the broader region to
make a livelihood creating products that are unique to our area and to connect with neighbors. I see
the Public Market as a place for people from many different backgrounds to be in their strengths
together in the same place."

The MarketReady Program will accept applications until the July 1, 2017 deadline. Applications are
available online at marketreadymadison.org and at FEED Kitchens, 1219 N. Sherman Ave, Madison,
WI 53704. More information is also available at facebook.com/marketreadymadison.

The Northside Planning Council focuses on small business incubation, food security, regional food
system coordination, vocational training, commercial district revitalization, community journalism
and technology, grassroots leadership development and community organizing towards the goal of
advancing racial and economic equity for Madison's northside community. Learn more about the
Northside Planning Council at http://northsideplanningcouncil.org/.